NMC: MEET, COLLABORATE & NOTIFY
NEC Meeting Center (NMC) is a secure and comprehensive collaboration solution that enables real-time sharing and exchange of information between colleagues and customers. Equipped with meet-me audio, web and video collaboration, dial-out Firebar emergency conferencing as well as mass notification in one complete solution, NMC alleviates the need and expense of deploying and managing multiple separate applications.
SMART APPLICATION
SUITE
NMC is a suite of applications including Audio Conferencing, Web Collaboration, Emergency Dial-out Conferencing and Mass Notification. Audio applications are supported up to 1,000 ports on a single server and Web collaboration up to 384 ports on a single server.
NMC is platform agnostic and can reside on a physical server or on a Virtual Server using VMWare. The suite is supported on NEC's UNIVERGE 3C, SV9100, SV9300, SV9500 and SIP@Net platforms.
NEC MEETING CENTER

 OFFERS
Real-time information sharing for better decision making.
Better collaboration, i.e. with a geographically dispersed workforce.
Reduced travel costs by remaining connected through real-time access and communication.
Eliminating monthly recurring charges for hosted solutions.
Secure connections with individuals across diverse locations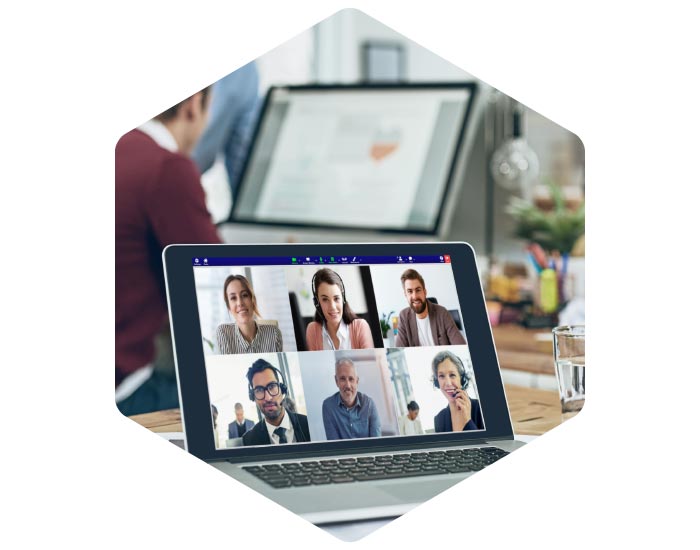 WEB COLLABORATION REAL-TIME SHARING
& EXCHANGE OF INFORMATION
Having the right collaboration tools makes a huge difference in your team's ability to maintain high levels of customer service – no matter location.
ELEVATE CUSTOMER AND EMPLOYEE EXPERIENCE NMC
Web Collaboration makes it easy for employees to communicate, share ideas and information with colleagues and customers – in meetings, presentations and training sessions. Combining Web Collaboration with Audio Conferencing or using WebRTC PC Audio, further enhances your team's collaboration capabilities.
Real-time information exchange between colleagues and customers
Standalone or with NMC's Audio Conferencing application
Web-based application requires no software download and no recurring costs of hosted solutions
Runs across the Internet or a private data network without requiring any changes to firewalls
Behind a private network your conference cannot be compromised
Upload images for annotation by attendees – and save to local PC
Perform public chat to all participants or private chat
Upload files to the Chat so other participants can download
Record the meeting and download to MP4 file for easy distributed
AUDIO CONFERENCING
STAYING CONNECTED HAS NEVER BEEN EASIER
With NEC Meeting Center's rich set of audio conferencing capabilities, staying connected from any location has never been easier. It allows employees to set up and manage secure conference calls via their PC or through the NMC 'Real View' web portal on their mobile device.
FLEXIBLE, CUSTOMIZABLE, SECURE
Support reservation-less and reservation-based audio conferences
Enable secure conference access (access code and personal PIN)
Customize conference with entry tones, memorable PINs, recording on/off, auto-call back on/off etc.
Schedule recurring audio conferences via the Web Portal
Use Microsoft® Office Outlook® iCalendar to send invitations
See real-time view of a running audio conference via NMC's "Real View" Web Portal
Display loudest speaker
Auto mute noisy lines or lines with excessive echo
Merge multiple audio conferences into one without dropping calls
Record entire conference or excerpts from a conference
Send a detailed end-of-conference summary report to the moderator
MASS NOTIFICATION
EXTEND YOUR REACH
When an emergency happens or when an announcement needs to go out about a situation or event, you need a quick and reliable method to send notifications out. It needs to be simple to use, have the ability to communicate via different channels and be a system that can be accessed from anywhere.
GETTING THE WORD OUT
NMC Mass Notification is simple to use and sends multi-modal messages to individuals or groups – quickly and efficiently.
Select communications medium to use (Voice, Email and/or SMS)
Send out emergency alerts, reminders, special event notices, etc.
Send messages on-the-fly or at scheduled times
Send pre-recorded messages or record and distribute immediately
Send caller-ID of your choice to display associated 'caller name' (e.g., 'Security Alert')
Display real-time call activity and a progress bar on a Web Portal
Report on call completions (Busy, No Answer, Answering machine)
EMERGENCY CONFERENCING
CONNECT SEAMLESSLY WITH DIAL-OUT FIREBAR
Whether you need to reach a group quickly during an emergency or have a weekly scheduled call with colleagues, NEC Meeting Center's Dial-Out (Firebar) conferencing can call a pre-determined group of people and pull them into an audio conference.
AUTOMATICALLY 'DIALS-OUT' TO CONFERENCE GROUP
NMC Dial-Out provides flexibility to automatically reach a group of people via voice, email, and SMS text.
Initiates a conference call with a single press of a speed-dial key
Triggers a dial-out conference based on an incoming call, a click on a web portal or a scheduled time
Selects the medium to use (Voice, Email, SMS or any combination)
Sends caller-ID of choice to display the associated 'caller name'
Offers answering machine detection and avoidance
Provides detailed reports on call completions (Busy, No Answer, Answering machine etc.)
'Find Me' calls all available numbers until the individual answers
Alleviates the need to continually schedule repetitive meetings