Multi-line desktop telephones with built-in Gigabit Ethernet connectivity
Running your organization on old devices is bad for business. That's why NEC has developed the next generation of desktop telephones. Our UNIVERGE Digital Desktop Telephones sport innovative design, and are intended to deliver maximum deployment flexibility and a wide range of choices that fit all business requirements.
Easy-to-use, intuitive interfaces
NEC's desktop telephone interfaces are designed to improve the overall user experience, while remaining intuitive—with no extensive training needed. Global icons indicate status at-a-glance including notification of new voice or instant messages, missed calls, the telephone user's current presence status, and the device's current data protection mode.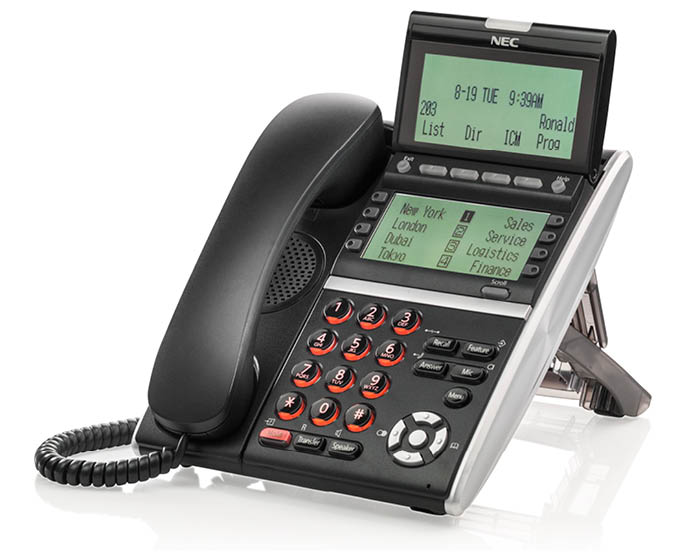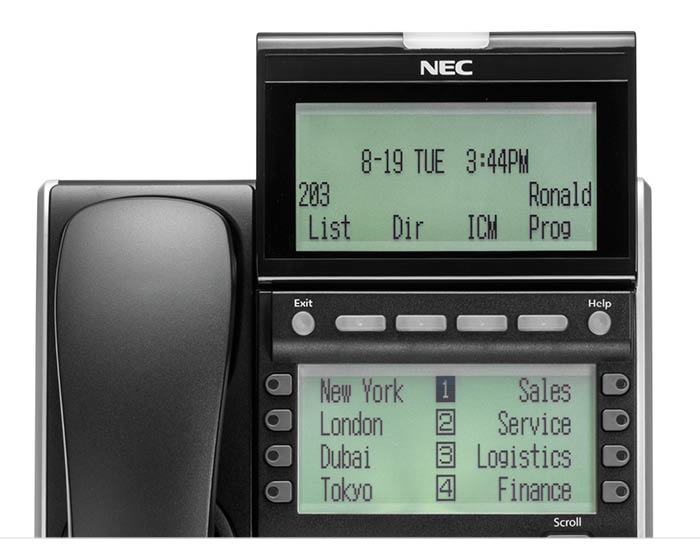 Achieve a Premier Multimedia Experience
Customizable to meet employees' specific communications needs

Supports a wide-range of applications which can help improve overall employee efficiency and productivity

Delivers maximum deployment flexibility and investment protection

Supports XML open interface

Easy to use intuitive interface and an interactive user manual

Bluetooth connection adapter which enables users to receive and place calls through either their smart device or desktop telephone

With options for the visually impaired such as audio key action feedback and large character display
Advanced applications
Delivered directly to the desktop telephone, advanced applications enable staff to work more efficiently and improve customer service. Voicemail, ACD, and customer information integration help minimize operator and other overhead costs. Users can log on to any IP telephone anywhere on the business's NEC network. Each user profile and settings are immediately available, without the need for extra programming.
UC for Enterprise integration
The UC for Enterprise IP telephone integration allows users to quickly search and view contacts from your company directory directly from their phone. Details such as status and preferred methods of contact are provided along with corporate information such as extension, email address, home phone number, etc. Presence icons are also displayed so users immediately know the status of the person whom they are trying to reach.
XML open interface support
NEC's IP telephones provide XML open interface support so your developers can create displayable and accessible applications designed specifically for your business. The XML interface provides the user with a way to integrate additional productivity tools such as calendar links, wallboard functionality, call directories, and more, which are displayed on the telephone's LCD.
Personal, system and corporate directories
UNIVERGE Desktop Telephones come with corporate directory functionality. Users can quickly access these directories to easily reach the people they need. There's no need to waste time looking up phone numbers. Each entry in the directory is searchable, and a call can be placed from the searched entry. When a call is received and if the Caller-ID matches a registered phone number within the directory, the name of the entry is displayed on the LCD.