Sophisticated mobile DECT/WiFi handset with enterprise grade capabilities
The SmartDECT handset G966 is a sophisticated handset providing enterprise grade capabilities and proven DECT voice quality with the flexibility of Android application support.
Key characteristics
High definition audio with G.722 codec in line with CAT-iq

Mobile Unified Communications features with central directory, presence lookup, messaging / alarming and localization

Android and WiFi to support business applications with the option to tightly integrate the application with the specific features of the G966 through its API*

Front camera for video supported unified communications

Bluetooth LE (low energy) to connect to a variety of external devices

Compatible with the (rack) charger of the G266 and G566 handsets

Appealing design and Smartphone user experience

Large 4-inch high resolution touchscreen plus all essential keys for call handling

Secure provisioning over the air

Dedicated keys, e.g. SOS
*only for certified applications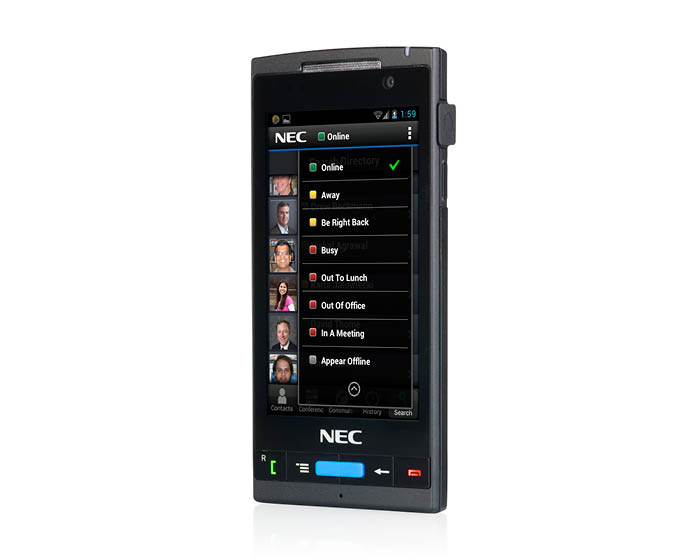 Smarter than smart
The G966 SmartDECT handset combines the power of DECT communications and WiFi data. The handset's WiFi capabilities and Android OS provide users with access to their vital business applications, integration with NEC's SV9000 platform, but also to Mail and Calendar, a company's intranet and VoWiFi. The large 4" inch high resolution touchscreen makes it a pleasure to work with.
Email, calendar and contacts at hand
Outlook integration gives you access to all your day to day business information. Check email and  calendar while on the move. Find the telephone numbers and names of the entire organization easily with the central directory always at hand. And you know when they are available to take a call. Simply browse to the right person in your display and check the person's presence status. So much for convenience and efficiency!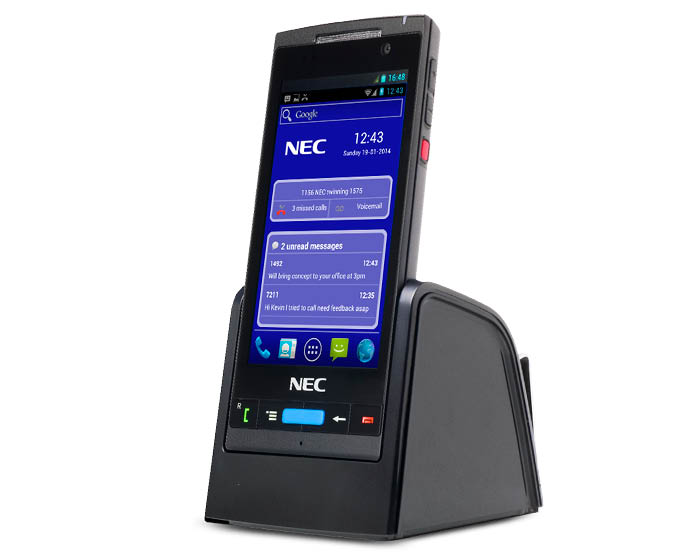 Comfort and convenience
The comfort and convenience of a headset when making frequent and lengthy calls and when moving around the office is indisputable. The Bluetooth Low Energy functionality gives you access to even more options, besides connecting a headset for instance also to synchronise contacts with your PC or mobile, or exchanging other information with your computer. The built in camera enables video supported calling, video monitoring and easily attaching images.