Compact and professional handset for mobile office users
The IP DECT handset G266 is a standard mobile handset offering a range of professional capabilities, such as central directory, loudspeaker and personal alarming.
Key characteristics
High definition audio in line with CAT-iq

Provides many different call control features seamlessly integrated with the PBX

Any place accessibility improving customer satisfaction, while users keep full control over




their presence

Valuable unified communications, including central directory access and presence

Intuitive user interface with colour display and icon based menus

A dual charger allowing an additional battery to be charged

Personal safety with SOS alarming key

Provides freedom, comfort and flexibility to the user with options such as headset and built-in trembler

DECT compliance for high quality speech and security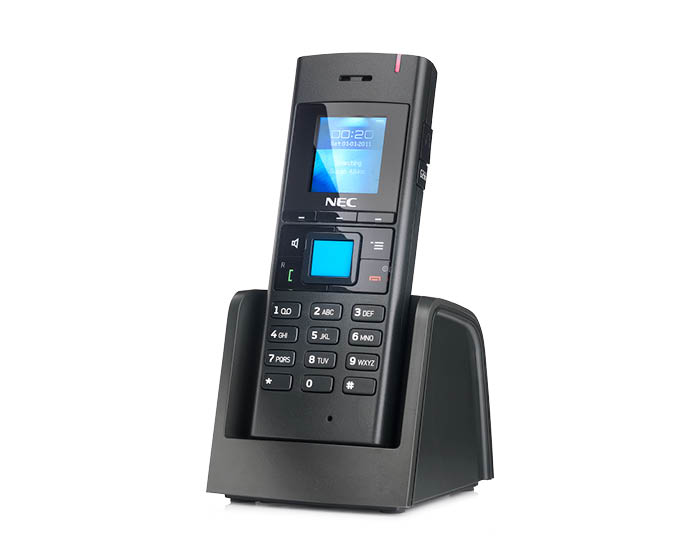 All contacts at hand
Find the telephone numbers and names of the entire organization easily with the central directory always at hand. And what's more, you know when they are available to take a call. Simply browse to the right person in your DECT handset and check the person's presence status. So much for convenience and efficiency!
Good vibrations
Sometimes you are waiting for a call or need to be on the alert, but have to also be in a meeting or are operating in an environment where you do not wish to disturb others. Or you may be in an excessively loud environment or circumstances where a vibration alert is preferable. The built-in vibration function is the ideal solution, enabling you to be available without your phone having to disturb others.
At the point of need
An alert? An alarm? A man-down situation? By pushing the SOS button on the phone, the system automatically sets up an emergency call, while the system can also automatically provide the location information of the phone itself.
Perfect voice quality
The G266 handset is designed for High Definition Voice by featuring specific audio capabilities. This offers the demanding business user superb voice quality, functionality that is particularly appreciated for longer calls and conversations in which it comes down to getting all details right.